Termite Baits
By: Phil Koehler and Tom Weissling, Department of Entomology and Nematology, UF/IFAS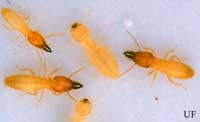 Many pest control companies are offering termite baits as a method of termite prevention and control. People are trying to decide whether to protect their homes with soil termiticides or baits. This information is designed to provide information about termite baits so they can make an intelligent decision about termite control options.
Termite baits use small amounts of insecticide to knock out populations of termites foraging in and around the structure. Some baits may even eradicate entire termite colonies. Termite baits consist of paper, cardboard, or other termite food, combined with a slow-acting substance lethal to termites. Regardless of which bait is used, the customer must be prepared and willing to accept the possibility of a lengthy baiting process.
Some bait products are inserted below ground out in the yard, whereas others are installed above ground level on the inside of the structure. Baits are applied below ground by enticing termites to feed on wooden stakes, cardboard, or some other cellulose-based material. The toxicant-laced bait can either be installed initially, or substituted after termites have been detected in an untreated monitoring device. The more below ground baits installed, the better the chances of locating termites. Planning, patience, and persistence are requisites for successfully using below-ground termite baits.
Termite baits may also be installed above ground in known areas of termite activity. Typically, the stations are installed directly in the path of active termite tunnels after the mud tubes have been broken. Effects tend to be more rapid with above-ground baiting because the procedure does not depend upon "chance" termite encounters with the stations.
The Sentricon® System. This method of termite baiting has been the most extensively tested of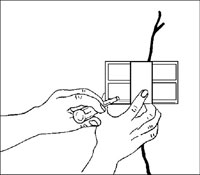 those currently on the market. The Sentricon Colony Elimination System® was developed by DowElanco (Indianapolis, IN; 800-888-5511) and is sold only through authorized pest control firms. The Recruit™ bait contains hexaflumuron, a slow-acting ingredient which disrupts the normal growth process in termites (i.e., termites die while attempting to molt). Termite control with the Sentricon® System involves a 3-step process: (1) initial monitoring to "pinpoint" termite activity, (2) delivery of the bait, and (3) subsequent monitoring to provide on-going protection . Recruit AG™ is a termite bait for use as an above ground delivery system for elimination of subterranean termite colonies. Recruit AG™ can only be used in conjunction with the Sentricon Colony Elimination System® and is not available as a separate program.
Firstline®. Another termite bait is the FirstLine® Termite Bait Station, manufactured by FMC Corporation (Princeton, NJ) 800-321-1FMC. The product is intended for above-ground baiting of active termite tubes. The station consists of a semi-transparent plastic housing (4x4x1-inches) with open slots at the base. Contained within is corrugated cardboard treated with a slow-acting ingredient (sulfluramid) lethal to termites.
Another formulation of Firstline® was introduced for below ground use, FirstLine GT® ("GT" stands for ground treatment). Label directions emphasize placement of baits in areas where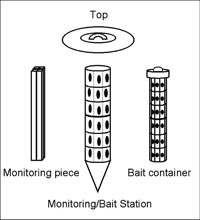 termite activity is known or suspected, i.e., installation may not involve insertion of baits at fixed intervals around the entire perimeter of the building as is required with the Sentricon system. Firstline GT® may be installed in the soil initially, in effect, by-passing the unbaited monitoring step utilized with Sentricontm.
Terminate™ is a termite bait product sold to homeowners over-the-counter in garden stores. The active ingredient is identical to the FirstLine™ product but was developed completely independently of FMC and without FMC's knowledge or approval. The product guarantees termite control or the homeowner can remove the stakes from the ground after nine months and return them for a full refund. The formulation has not been tested by university researchers to determine how well it works when applied according to label directions. See the University of Florida Pest Alert page on the settlement resulting from Federal Trade Commisison action.
Exterra™ Termite Interception and Baiting Systemtm is a new termite bait developed by Ensystex (888-EXTERRA). Use of Exterra™ is a multi-step process. The first step is the placement of stations in the ground around the perimeter of the structure. The next step is inspection of the stations and baiting of active stations with Labyrinth™ (bait that contains the active ingredient). The next step is reinspection of stations and replenishment of consumed bait. When termite activity in the station is eliminated, the station is refurbished and the cycle of inspection and baiting begins again. The toxic bait in Labyrinth™ is diflubenzuron, a chitin synthesis inhibitor that causes termites to die while attempting to molt. The biggest advantage of Exterra™ is that stations can be monitored or refilled with bait without disturbing termites in the station.
Deciding on baits or termiticide barriers
Buildings with hard-to-treat construction or chronic retreatment histories are logical candidates for termite baits. Some structures have construction features that interfere with conventional soil treatment methods, such as wells, cisterns, plenums, drainage systems, and inaccessible crawl spaces. With baits, gaining access for treatment is seldom a problem since foraging termites are as likely to encounter below-ground bait stations around the foundation exterior as well as beneath the structure.
Homeowners who do not want floors drilled and furniture/stored items/carpeting moved are good candidates for baits. Baiting requires fewer disruptions than does conventional barrier treatment. Installation and subsequent monitoring of bait stations generally does not even require the technician to come indoors. Noise, drill dust, and similar disruptions associated with conventional treatment are avoided.
Homeowners who are strongly opposed to the use of pesticides around their home are good candidates for baits. Chemically-concerned homeowners may find the concept of baiting more attractive. With baits, the total amount of pesticide applied is small in comparison to the high gallonages needed to achieve a thorough and effective soil barrier treatment.
Homeowners on limited budgets are good candidates for traditional termiticide barriers. The average termite treatment is usually about $500-800 and with a renewable service agreement (warranty) costing $80-200 in case the termites return. A baiting program usually ends up costing more than a conventional treatment (averaging about $1,500) because baiting programs require multiple visits to the property for routine monitoring of bait stations. Also, the annual renewal fee for baiting typically will be as much as two to three times higher than for termiticide barrier treatment.
Property owners with a serious termite problem or those involved in a real estate transaction are good candidates for termiticide barriers. They may not be able to wait two to six months (sometimes longer) for baits to suppress or eliminate the infestation.
People living in attached housing (condo's, attached residences) where the entire structure cannot be baited are good candidates for termiticide barriers. Often all the people living in attached housing cannot afford the termite baiting procedure.
Some houses may require treatment with both baits and termiticide barriers. With comprehensive baiting programs such as Sentricon® and Exterra™ , liquid applications (when deemed necessary) are usually made as partial treatments to infested areas, rather than to the entire structure. Other bait products (e.g., FirstLine® ) are more suited for spot-treatment of active tunnels, feeding galleries, and localized areas in the soil. Such products are typically used in conjunction with more extensive barrier treatments.