Mosquito Control
Chemical Control of Mosquitoes: A guide to understanding the safety, mode of action and proper timing of application of the products used in mosquito control

What is it and what did we do?
Chemical control is one IPM tool available for the management of mosquitoes. It is a complex tool and is often misused. The complexity lies in the requirement for several different types of products based on the life stage and the species of the mosquito. Chemicals available to control adult mosquitoes (adulticides) are applied by ground or air to target the terrestrial adults. The best time to apply is when the mosquitoes are flying; many applicators waste product by making these treatments during the day when the mosquitoes are inactive, Chemicals used for control of larval mosquitoes (larvicides) are applied directly to the water. Some larvicides must be ingested by larval mosquitoes; therefore, applicators have a short window of opportunity to use these products effectively because larval mosquitoes stop feeding during the 4th instar. Some conditions that appear to be appropriate for chemical control are more effectively managed through draining or other control measures.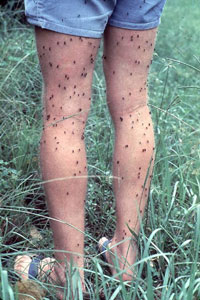 This project will include the development of a series of fact sheets assembled into a technical bulletin. Each fact sheet will address individual compounds and their various formulations available for mosquito control, to include mode of action, safety known non-target effects, proper timing of application, and a discussion of which products are the most effective for the various mosquito species and habitat types.
The person that made this happen:
Dr. Roxanne Connelly , Extension Specialist-Medical Entomology UF/IFAS Florida Medical Entomology Laboratory, Vero Beach