IPM Florida
IPM Florida Group
Profile: Norm Leppla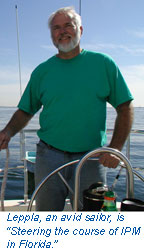 Norm Leppla, Professor and Program Director, IPM, at the University of Florida, Institute of Food and Agricultural Sciences, has worked in Entomology and IPM since receiving his Ph.D. in Entomology/Biological Sciences from the University of Arizona in 1972.  An avid outdoorsman with a love for natural history, his career path was influenced by scientists and educators who had similar interests, particularly mentors at universities and the USDA.  Also, when he was studying for his M.S. degree at Arizona State University, some founding members of the EPA visited the campus and described their mission.  This inspired Norm to conduct research on improving methods for managing insect pests. 
Subsequently, Norm has dedicated his career to advancing the science and practice of Entomology by studying insects to protect agriculture, human health and the environment.  His work emphasizes IPM, biological control and insect rearing technology.  His major accomplishments include developing new insect mass production systems, establishing the first biological control laboratory specifically to support the commercial natural enemy industry, leading a federal agency's technology development to prevent serious pest outbreaks, collaboratively designing and establishing the National Biological Control Institute, leading the design and construction of a new research and education center in Central Florida, and creating and leading the first statewide IPM program at the University of Florida.

Norm established IPM Florida in 2001 to provide statewide, interdisciplinary and inter-unit coordination and assistance in IPM to protect agriculture, communities and the environment.  As the director, his primary duties are to: 1. Support and encourage county Extension faculty and agricultural and urban clientele in planning, funding and coordinating IPM and biological control programs, 2. Respond to IPM-related inquiries from UF, USDA, EPA and other organizations, 3. Coordinate and report on UF/IFAS IPM projects in multi-disciplinary state, regional and international settings, 4. Support county-level IPM activities by forming collaborative partnerships, and 5. Serve as a focal point for institutional IPM and biological control in Florida.  Additionally, IPM Florida supports the UF/IFAS Doctor of Plant Medicine Program that produces IPM practitioners.
During his highly productive career, Norm has authored more than 200 publications on a wide range of entomological topics and presented a greater number of papers on his research, Extension and administrative activities.  He has been an active member of the Entomological Society of America; was the Board Certified Entomologist Program examiner and director; and currently serves as Environmental Entomology Subject Editor for Biological Control.  He also has been an active member of the Florida Entomological Society: President, Business Manager,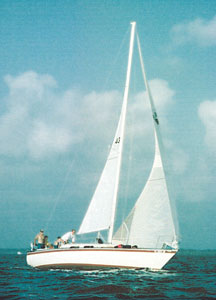 Caribbean Conference of Entomology co-founder, and Florida Entomologist Associate Editor.  He serves as chairman of the Florida A&M University Center for Biological Control Advisory Committee, a member of the International IPM Symposium Steering Committee, an instructor for the annual Mississippi State University Insect Rearing Workshop, and an advisor to the Association of Natural Bio-control Producers.  He recently completed service as chairman of the Southern Region State IPM Coordinators and Southern Region IPM Center Advisory Council, and co-chairman of the International Organization for Biological Control, Arthropod Mass Rearing and Quality Control Working Group.  Recent awards include the ESA-SEB, Award for Excellence in IPM; Florida Entomological Society, Entomologist of the Year Award; and election as an ESA Fellow.