Profile: Joyce Merritt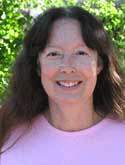 Dr. Joyce Merritt is a graduate of the Doctor of Plant Medicine Program at the University of Florida. In addition to a D.P.M., she holds an M.S. in Biology from California State University Northridge and a B.S. in Biology from Loma Linda University.
For her master's thesis, Dr. Merritt conducted research on the enzyme, 3,4-dihydroxyxanthone dioxygenase, which is involved in the metabolic pathway of Xanthone catabolism in the soil bacterium, Arthrobacter GFB100. After completing her master's degree, she then enrolled in the Plant Medicine Program at UF. During the D.P.M. program, she specialized in plant pest risk assessment, completing an internship at the U. S. Department of Agriculture, Animal and Plant Health Inspection Service, Center for Plant Epidemiology and Risk Analysis Laboratory in Raleigh, North Carolina. She also completed an internship at the Florida Department of Agriculture, Division of Plant Industry, Citrus Health Response Program in Gainesville, Florida. In addition to the D.P.M., she earned a Certificate in Plant Pest Risk Assessment and Management.
After receiving her D.P.M., she worked as a Post-Doctoral Associate in Plant Pathology at UF. Currently, she has a private practice assisting growers with their plant health problems. In addition, she is an Adjunct Professor in Biology at Santa Fe College and works part-time at IPM Florida. At IPM Florida, she works on the website and prepares Extension materials.