Grower's IPM Guide for Florida Tomato and Pepper Production Screensaver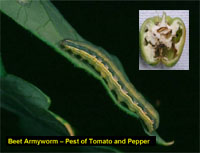 Denise Thomas, Information Specialist, IPM Florida
This screensaver contains over 50 slides with a collection of photographs of pests, diseases and weeds that affect tomato and pepper production. In addition, it has biological control agents and other control techniques that can aid in integrated pest management. A title will pop up after a few seconds to test your identification skills of these various organisms and techniques. With high quality pictures and a gradual speed, it is easy to view up close or afar. This is ideal for anyone interested in knowing what can affect tomato and pepper production.
Photo credits: Jerry Bartz, Jeff Brushwein, Lyle Buss, John Capinera, James Castner, Carlene Chase, Skip Choate, Kent Cushman, Hank Dankers, Lawrence Datnoff, Jack Dykinga, Jason Ferrell, Joe Funderburk, Fred Fishel, Phyllis Gilreath, Russ Mizell, Tim Momol, Joe Noling, Steve Olson, Ken Pernezny, Milt Putnam, Stuart Reitz, Dave Schuster, Thomas Wright.
Click on the link below to download the screensaver. Save it onto your computer then click Run. Once it is downloaded, it will take you through a Wizard to make it the default screensaver. You can change the screensaver to something else by going to Control Panel and then Display.
Download the Tomato Pepper IPM Screensaver (exe 14MB)
I would like to thank Jennifer Gillett and Norm Leppla for reviewing the slides and Marion Douglas for technical support. This project was funded through a grant proposal with the USDA, CSREES, Pest Management Alternatives Program (grant #2003-34381-13593) that was prepared by Norm Leppla and Barbra Larson.