IPM Videos
Creating Videos to Enhance Student and Public Educational Opportunities in Integrated Pest Management

What is it and what did we do?
A series of video clips, produced by IFAS Communication Services, and narrated PowerPoints were developed to aid in the presentation of common horticultural techniques associated with integrated pest mangement. A video clip and PowerPoint were developed for each topic area and presented to the target audiences to determine the most effective format for delivery of the subject matter.
What was the outcome?
The video clips and narrated PowerPoints were presented to residential homeowners (Orange and Osceola County Master Gardeners) and future horticultural professionals (UF Environmental Horticulture students). Orange County Master Gardeners are responsible for assisting the public with general horticulture questions and annually respond to approximately 7,000 requests. Environmental Horticulture students are trained in Nursery and Landscape Management and will be employed throughout the state.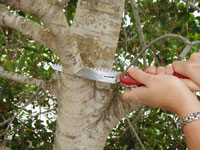 View videos produced from this project on the following topics:
The people that made this happen include: