Profile: Yasaman Moghaddasi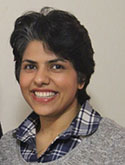 Yasaman Moghaddasi is a Ph.D student in ecology and biological control of insects at the University of Tehran in Iran. Currently she is a visiting scholar at the University of Florida and works in the IPM Lab under supervision of Dr. Norman Leppla. She holds an M.S. in Entomology from University of Tehran and a B.S. in Plant Protection from Shiraz University.
She is interested in the effect of diet on the ecology, physiology, and behavior of insects. In addition, she is interested in learning and memory duration in the endoparasitoid wasp, Venturia canescens. For her Master's Thesis she investigated the effect of storage of corn and wheat on biological parameters of the Mediterranean flour moth (Ephestia kuehniella Zeller).
Her research project at UF involves studying the effects of flour moth (Ephestia kuehniella) diet on ecophysiology and behaviour of the parasitoid wasp, Trichogramma brassicae. Working with this little wasp is her life.